Hello, All! Welcome to this Blog of TaffeytheChamp! I hope that everyone will be enjoying a wonderful Valentine's Day. I certainly am & am looking forward to a great week, also.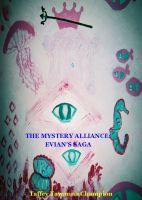 I did indeed end my prior course in Educational Psychology with High Marks. And since my last post, I have started a new course pursuit to my Master's program, which I am enjoying already. I do hope that my performance will reflect my enthusiasm for this educational course, to say the least.  Currently, I am still obtaining Followers & Readers of My Action Adventure/Futuristic Fantasy E-Book entitled,
"THE MYSTERY ALLIANCE: EVIAN'S SAGA"
. So certainly, I am looking forward to any future plans I may put into motion.
 If there are any new developments and/or updates, occurring in the near future, I will share them; if I consider any of them important. Please keep taking care of yourselves. And do enjoy this lovely Valentine's Day Sunday!