Hello, Everyone! Welcome & Thanks to all who follow, support, & visit TaffeytheChamp's Blog! I am having a truly Fantastic New Year & I wish the same for all of you.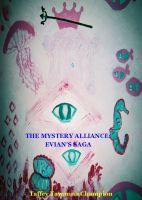 My current course within the Educational Psychology curriculum is drawing to its close & I hope to end this specific course with the High Marks I have already earned. I am still acquiring quite a number of Followers & Readers of My Action Adventure/Futuristic Fantasy E-Book entitled, "THE MYSTERY ALLIANCE: EVIAN'S SAGA". I have reached thousands around the world via book marketing & I feel truly blessed.
In addition, I am looking forward to an exciting & wonderful Spring. I want the same for any of you. Please feel free to read this week's Blog post. I will be in touch with more information that I may want to impart in future. Take Care of Yourselves & Enjoy a Splendid weekend!