Hi, All! Welcome to My Blog! I hope everyone's enjoying this absolutely marvelous Holiday season. I am certainly Loving every minute of it!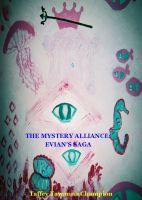 I am still performing very well in my current Educational Psychology course. I hope this will continue. And I am still acquiring more Followers & Readers of my Action Adventure/Futuristic Fantasy E-Book entitled, "THE MYSTERY ALLIANCE: EVIAN'S SAGA".
In addition, I am being asked to participate in more interviews, thus I will let you know if I agree to any of them. If there are any new developments, I will inform you of them, if necessary. Please Be Safe & Have a Merry Christmas during this Miraculous, Happy Holiday season!